London Koko
Posted | 15th June 2017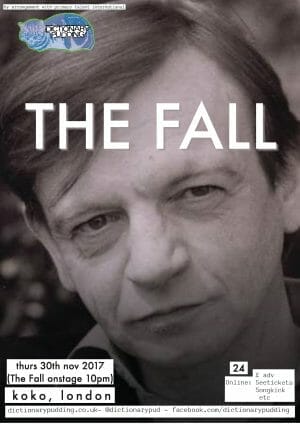 Bristol Fiddlers Club: rescheduled
Posted | 14th June 2017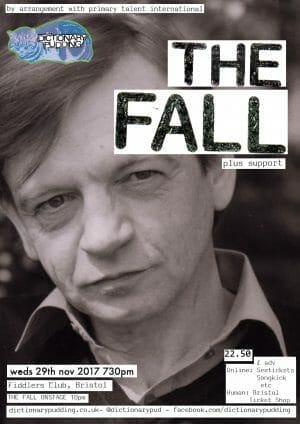 Baby's All Right – New York residency
Posted | 6th June 2017
The Fall
Baby's All Right
Brooklyn, NY, USA
September 12-16 2017
Tickets – on sale Friday June 9, 12:00 PM EDT
New Facts Emerge
Posted | 31st May 2017
The Fall have announced details of their 32nd studio album.
New Facts Emerge will be released on Cherry Red Records on July 28. The album was produced by Kieron Melling/Mark E. Smith and engineered by Ding.
The line-up on New Facts Emerge is: Mark E. Smith (lead vocals); Peter Greenway (guitar, synth, backing vocals); Dave Spurr (bass, Mellotron, backing vocals); Kieron Melling (drums).
Tracklist
Segue
Fol De Rol
Brillo De Facto
Victoria Train Station Massacre
New Facts Emerge
Couples Vs Jobless Mid 30's
Second House Now
O! ZZTRRK Man
Gibbus Gibson
Groundsboy
Nine Out Of Ten
Preorder from Cherry Red
Newcastle Boiler Shop: rescheduled
Posted | 30th May 2017
Original tickets remain valid. Refunds available from point of purchase.
Remaining tickets on sale now via dice.fm and wegottickets.com.
Copped Out
Posted | 22nd May 2017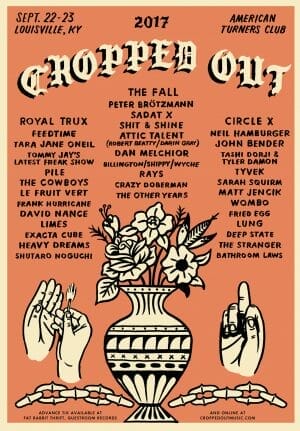 The Fall return to America later this year, playing the Cropped Out festival in Louisville on 23rd September.
Festival information and tickets available now at croppedoutmusic.com.
The 100 Club
Posted | 18th May 2017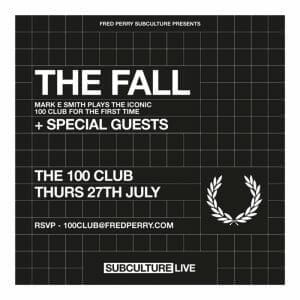 Masquerade / Record Store Day
Posted | 21st April 2017
This is not a release by The Fall group, it is a release by Cherry Red, and it's the 1st thing Mark E. Smith has heard of it.
It's from the 90s, b.e. (before Ed)
M.E.S.
Leeds / Wakefield
Posted | 7th April 2017
The postponed gig at Leeds Belgrave Music Hall which was due to take place in February has been rescheduled for Tuesday 23rd May. Original tickets remain valid. The Fall are also due to play Wakefield Unity Works on Friday 20th October. Tickets on sale Monday 10th April, 10am.
New album update
Posted | 6th April 2017
"New Facts Emerge" 2016/17 recorded Castleford/Salford. Release back end May.